Ko Pha Ngan or Koh Phangan is an island located in South East Thailand on the Gulf of Thailand. Koh Phangan is popular for many things the most notable being its tourist attractions i.e. the full moon party which takes place on Haad Rin Beach. Koh Phangan also derives popularity because of its proximity to islands such as Ko Samui and Ko Tao. The island is very popular among backpackers.
Foonia/Shutterstock.com
History
Koh Phangan island got its name from the word; "Ngan" which means "sand bar" in the southern dialect. Since time immemorial, the island has been a very favorite destination for Thailand's kings, especially King Rama V who visited the island over fourteen times during his reign. Settlement in Koh Phangan dates back to 500-100BC. The Bronze Drum dating back to the Dongson culture was discovered in Samui in 1977 proving that there were settlements of people in Samui and neighboring islets more than 2,000 years ago.
Many archaeologists and historians believe that the Muslim sea Gypsies i.e. the Semung, Proto-Malay and Pygmy were the first to settle to Koh Phangan from the Malayan Peninsula. It is however important to note that there are very few Muslims living in Koh Phangan today. Over the last 100 years, Koh Phangan's population increased drastically. The island's population initially lived off the sea and land by fishing and farming coconuts. Tin mining was also a major economic activity in the 1970s. The mining industry, however petered giving way to the tourism industry.
Today, the island is one of the most popular tourist destinations. It is however important to note that fishing & coconut farming still contribute significantly to the local economy.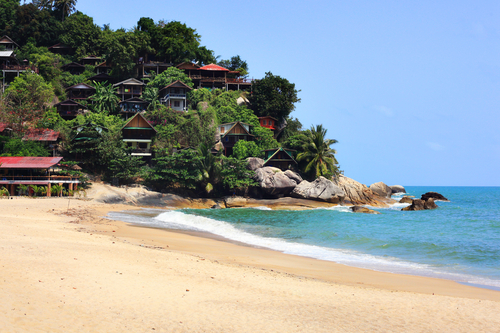 Administration and Notable accommodation/Facilities
Koh Phangan was originally administered from Samui district. The island was, however upgraded to a district on 12th April 1977. Since then, the island has been administering itself. In regards to facilities, Koh Phangan has very many luxurious resorts and private villas. The island also has many beaches i.e. Haad Yuan, Haad Rin, Thong Sala, Haad Salad, Haad Yao, Thong Nai Pan and Chaloklum beaches.
Other notable facilities include a school. Koh Phangan has an international school; Si Panya School, which is situated in Baan Tai. The private international primary school follows the British curriculum for boys and girls aged 5-12 years. The school was built in March 2012 with an aim of attracting foreign settlement on the island.
Popular Culture
Koh Phangan has been featured in many publications worldwide the most notable feature being in Alex Garland's novel; The Beach released in 1996. The island has also been mentioned in the song; Magick, released by the Klaxons band in 2006. Koh Phangan is also mentioned by famous pop group Ace of Base in their song; Vision in Blue. Music producer; Ashley Wallbridge also mentions the island in his song Kopanang.
Other popular cultures in the island include; the Full Moon Party which takes place monthly on the Haad Rin Nok beach. The event features electronic music attracting over 40,000 people during ordinary months and over 1,000,000 people (mostly tourists) during the high season which starts in December and ends in March.
How to Get There
The most popular and easiest way to get to Koh Phangan is by a ferry. You can find all the information and buy the tickets online at www.ferrysamui.com.
John Chen is a travel writer currently located in Bangkok, Thailand. He likes writing about Thailand and he writes not only about traveling in Thailand, but also about business, culture, economy, education and food.