Koh Samui is a small island that was left inhabited for hundreds of years, but until 1970, this small jungle island wasn't even having paved roads. Today, Koh Samui is among popular destinations for beach holidays and honeymoon travel. For those willing to spend their honeymoon in Koh Samui, here is a brief guide to help you make your honeymoon more enjoyable:
Where to dine
Here are some of the finest restaurants that you should definitely visit while on your honeymoon to Koh Samui:
Ocean 11
Ocean 11 is located on the Big Buddha beach. The restaurant offers a carefully designed menu of Mediterranean and Italian dishes that are full of local flavors. The romantic atmosphere there, is sure to entice any honeymooner coming from any nation.
H Bistro
Honeymooners looking for a more metropolitan feel should stop at H Bistro. The restaurant serves French-Mediterranean cuisine complemented with an extensive collection of vintage wines.
Krua Chao Baan
Krua Chao Baan is a no-fuss local spot that you can add to your honeymoon itinerary. You'll have to eat right on the beach, so plan to have your meals after the sunset. Make sure that you don't miss gaeng som local sour curry, the tiger prawns drenched in Tamarind sauce or the red snapper with chili and mango salad. After your meals, you can use one of the restaurant's Kayaks to have a romantic ride out into the water.
What things to see and do
Though honeymoons need to be relaxing, there are few things that cannot be missed. Keeping that in mind, here are some of the best things honeymooners can see and do in Koh Samui: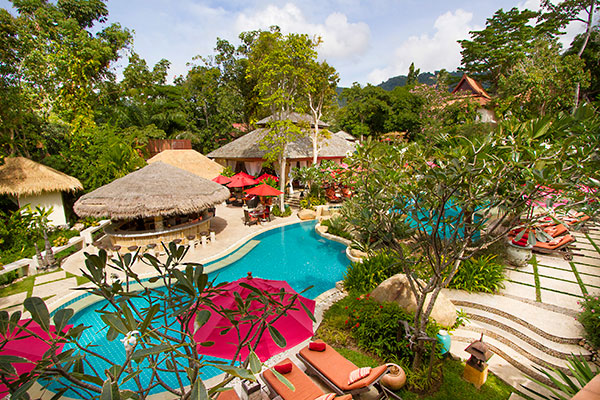 Shop at Jim Thompson
The Jim Thompson store is located on the Chaweng Beach, so head over to this store to pick a purse, tie, silk scarf or any other accessory. In the event you haven't heard about this store, Jim Thompson is a leading brand in the silk industry. The store is definitely worth a visit.
Play golf
You can play a round of golf at the Santiburi, which is a training course with magnificent views of the surrounding area taking you up and down a hilly landscape. Use of carts is mandatory here, so minimum hiking might be required.
Relax around the beaches
The beaches of Koh Samui are pristine and luxurious. Avoid the busy Chaweng Beach in the city and check out Lamai, Bophut, Choeng Mon beach or Lipa Noi for further privacy on this idyllic island.
Visit Big Buddha Temple
Hop on a boat and visit the Big Buddha Temple, locally referred to as Wat Phra Yai. Buy trinkets from small stalls located nearby and have a look at the interesting posture of a giant statue of Lord Buddha. Prefer reaching this spot in the morning as this allows you to see how locals bring offerings and hear the chants of the monks.
The island's peak season is December to January. The weather is good until April after which the temperatures spike. Rains happen between October and December, but downpours are brief even during the monsoons.
Where to stay
Here are some of the best luxury resorts in Koh Samui for your stay:
Rocky's Resort
Rocky's Resort offers an idyllic setting for the couples to spend time together. The resort is located in a secluded cove approximately 1.5 km from the famous Lamai Beach. This strategic location offers complete privacy and isolation while at the same time being close to the major shopping centers, restaurants and nightlife activities. The resort has 47 rooms and 3 private pool villas that are equipped with all modern day comforts.
Four Seasons Resort Koh Samui
This excellent resort on the northwestern tip of the island provides its guests an exclusive retreat away from the chaos of the city, but close to all the nightlife activities that happen in Koh Samui. All five-bedroom villas have their own private pool and an easy entry to a non-public beach that has white-bone sand.
W Retreat
This modern resort is found on the northern coast of the island. W Retreat is known for its beautiful ocean-side rooms that open directly onto the beach. This resort has six restaurants, a wooden patio, a poolside bar and plenty of other lavish luxury amenities.
John Chen is a travel writer currently located in Bangkok, Thailand. He likes writing about Thailand and he writes not only about traveling in Thailand, but also about business, culture, economy, education and food.