Buying and selling houses is expensive. That's why many people are choosing to 'improve, rather than move'.
One of the best ways to improve your home is by building a new conservatory. There are many benefits to this added extension. Let's have a look at the top ten below.
Extra Room
One of the key benefits is the extra room you'll get by building a conservatory. Be warned though, with extra room comes great responsibility. Don't use this room as a mere dumping ground!
Give your conservatory a clear purpose, by creating a living area, dining area, chill out space, study area or kids' play zone. The possibilities are endless and because conservatories are flexible spaces, you can change your conservatory's purpose with the seasons.
Cheaper than moving Home
The average cost of moving house is over £8,000. Couple that with the stress of shifting from one home to another, and you can see why building a conservatory is much more appealing.
If you're looking to move to increase the amount of space in your home, a conservatory is a good alternative.
Increases value of your Home
Conservatories increase property prices by around seven per cent. Building a conservatory is a sensible investment that will give your home added appeal and possibly set you apart from other houses in your neighbourhood.
Make sure you choose a conservatory that is in keeping with the style of your property and isn't overbearing in your garden.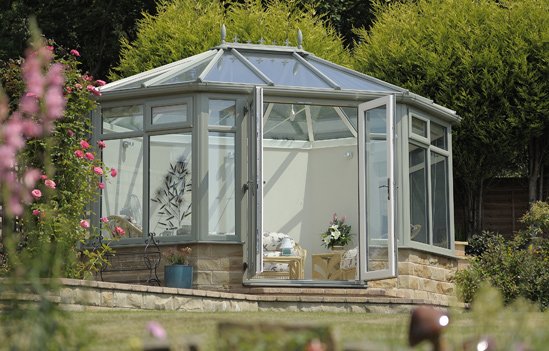 Enables you to enjoy the Garden year-round
Gardens aren't just to be enjoyed during the summer months, although the great British weather does put us off from spending time outside.
With a conservatory, you get to enjoy your garden every day of the year. A professionally fitted conservatory will be warm in the winter months and cooler in the summer. This will allow you to relax comfortably, whatever the temperature is outside.
Provides a Stress-free sanctuary
Dedicate your conservatory as your family's stress-free sanctuary and give everyone some space to relax and unwind.
There's something about listening to raindrops in a conservatory that us humans love. It's very calming and helps us zone out. The next time there's a heavy rain shower or thunderstorm, enjoy this experience with your family and spend some quality time together under the glass roof.
Watch the kids play
Who doesn't want to spend more time watching their kids enjoy themselves?
With a conservatory, gone are the days of watching them out of the kitchen window whilst you wash up. You can sink into a comfy chair, with a cup of tea and your favourite book and enjoy the laughter from your children playing in the garden.
Enjoy more natural Light
There's no doubt about it, natural light is good for us. Why read your morning paper in the dimly light living room, when you can sit in your conservatory and open the doors to the great outside instead?
Ideal for Entertaining
Make the neighbours jealous by hosting legendary dinner parties in your conservatory.
During the winter, a snug conservatory can be transformed from a summer space, into a functional dining room. In the summer months, turn your dining room into a more flexible living area. If you're hosting a BBQ, conservatories provide welcome cover from the hot sun, or unpredicted rain showers.
Creative study space
More people than ever before are able to work from home. That means folders, paperwork and stationery creeping into your living room or bedroom. If you're not luck enough to have a study, the conservatory is the perfect creative space for studying and working to take place.
A neat den for the kids
Keep the kids' toys and games out of the living room by investing in a couple of toy trunks for the conservatory. The conservatory is a great place for the kids to enjoy some playtime, whilst mum and dad relax in a tidy and organised living room. Bliss.
Although the initial cost of building a conservatory might discourage you, you should consider it as a key long-term investment.
Choose the right conservatory supplier and adhere to building regulations, and you'll be amazed at the difference a conservatory can make to your life.
Mark Caulfield is a qualified and experienced architect and the co-founder of conservatory design company Caulfield Conservatories. Mark regularly blogs on the benefits of investing in conservatories and can provide design and installation advice to those who are thinking about adding an extension to their home.