For women, shoes are a very significant part of their closet. This is so because they complement their entire outfits. You can imagine wearing a designer dress but choose old and rugged shoes; this will definitely water down the expensive, exquisite dress you have donned. Therefore, shoes are a solid long term investment. Discussed below are some of the most stylish shoes for this fall season.
Low Heel
These types of shoes are getting a solid buy from fashionistas and celebrities across the globe. This is because they are comfortable and depending on the pair you choose, they can be as fashionable and stylish as a sky high stiletto. There are numerous of classic and stylish choices to pick from. Whether you stick to shoes or boots, one-inch height will ensure that you are comfortable and at the same time looking glamorous.
Chunky block heels can also be a great addition to your portfolio this season.  They look great and are very comfortable. In addition, you can try low heel embossed in exotic skin or leather to add a new twist to a monochrome outwear. This fall flats are available in a variety of designs and styles to cater for different tastes and preferences. Animal prints such as cheetah and leopard continue to be very popular. Ballet flats, moccasins and loafers are some of the hottest footwear trend for this season.
Boots
Fall 2014 is full of glitz and glamour with different types and designs of boots. Over-the-knee boots and fur-trimmed boots are some of the popular styles among fashion-conscious ladies. These boots come in sumptuous fabrics such as patent leather, luscious suede and velvet. Some of the best and stylish boots for the season are calf-length, ankle and knee-high boots.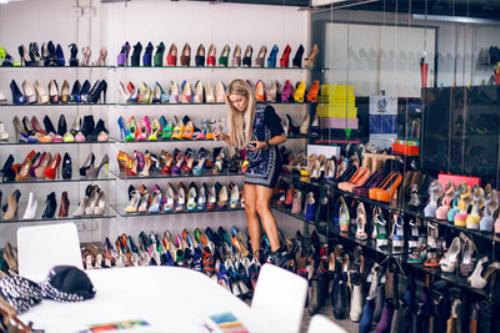 Stilettos
For a woman who loves an elegant and sophisticated look, her closet cannot be compete without several pairs of stilettos. These are some of the most popular collection this season. Indeed, there are numerous great options for women footwear this fall. Look adorable and gorgeous this fall with a pair of stilettos. They are statement-making shoes that every fashionista should have in her closet.
Pumps
These are cute and classic heels for the fall season. They are superb pieces which run out of fashion for seasons to come. They are a shoe for every occasion and very comfortable. A pair of classic and stylish black or red pumps will make you look dashing, elegant and feminine. Victoria Justice rocked the Voices on Point Musical Gala red carpet event in black suede pumps. These types of shoes are very versatile and blend well with almost all your outfits in your closet. They are indeed a beautiful and worthy investment.
Peep-toes
You can exude edgy elegance in peep-toes this season. These types of footwear never go out of style. They are on top of the chart this fall. Peep-toes are stylish and classic; they give the wearer a sophisticated, exquisite look. Peep-toes are a favorite pick for models, celebrities and designers in fall 2014. Peep-toes shoes competes your closet. Their charm and elegance will spice up your wardrobe and enable you achieve the desired look.
It's a wise idea to choose footwear that you can transit with into winter season seamlessly.
Rose is a fashion writer who has contributed a number of articles to fashion blogs and edited a number of magazines. She has combined her writing role with that of fashion training where she teaches beauty contestants on matters touching on dressing. She specialize in asian fashion trends, you can check her picks for currrent Autumn season browsing cutefashionstore.com the latest arrival.