Phuket is home to many excellent beaches and resorts. It is therefore a daunting task for anyone to attempt to rate the resorts. Nevertheless, this article will attempt to list some of the best resorts in Phuket based on factors like; facilities, uniqueness, clarity of the sea, quality of sandy beaches, beach intimacy, accommodation, amenities, activities among many other factors. Whichever way you choose to grade beach resorts, you will definitely find some of the best Phuket resorts in our list below.
1. Renaissance Phuket 
The Renaissance Phuket is a 180 room luxury beach resort with deluxe rooms, 1-bedroom suites, 1-bedroom pool villas as well as 1-bedroom oceanfront pool villas. Renaissance Phuket stands out as one of the top beach resorts in Phuket because of many things the most notable being the resort's luxurious accommodation. From above information, it's clear that the resort has plenty of luxurious accommodation options for all kinds of guests. The resort also stands out for its futuristic and tasteful reception/lobby areas.
At first glance, it is easy to notice the keen attention to detail in Renaissance Phuket in all aspects. The resort also serves some of the most tasteful and innovative local and international cuisines with a very unique touch. The resort also stands out for having world-class amenities i.e. an ultra-modern fitness center, which is well equipped, a Jacuzzi and sauna. The Renaissance Phuket is perfect for honeymooners, beach lovers and families. Room prices start from THB 2,400.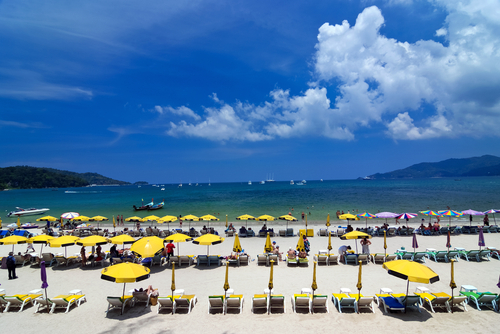 2. Amari Phuket 
This is another top beach resort in Phuket. The Amari Phuket has 197 rooms. The resort is located south of Patong. The Amari Phuket stands out for many things the most notable being the excellent accommodation featuring magnificent views of the Patong Bay and Andaman Sea. The Amari Phuket sits on the hills and straddles down a slope to the Andaman Sea. Magnificent views aside, the resort also stands out for its numerous amenities. For instance, the resort has 2 pools, a spa, scuba diving center, a fitness center and a tailor shop. The resort is also home to some of the most popular restaurants in Phuket known for their theme nights and serving the best local and international dishes.
The accommodation options are equally impressive given the fact that the resort has 106 superior rooms each measuring 33sqm. The resort also has 84 deluxe rooms and 7 suites. All suites have a mini bar, en-suite bathroom, safety deposit box, free Wi-Fi, cable TV, tea making facilities, air conditioning and so much more. The Amari Phuket resort definitely deserves a spot on this list. Accommodation costs (per night) start from THB 3,301.
3. Katathani Phuket 
The Katathani Phuket resort is undoubtedly one of the largest and most luxurious beach resorts in Phuket based on capacity. The resort has 480 rooms which offer unmatched variety. The guest rooms and suites offer above per accommodation compared to most resorts in Phuket. For instance, all suites in the resort have private balconies as well as terraces facing pools, the ocean or the tropical gardens. The resort has ample amenities i.e. 6 swimming pools, huge grounds and an extensive beach (850 meters long).
Other notable amenities include; five bars and six restaurants. The resort also has a main dining room which serves tasty contemporary Italian fare among other international and local dishes in a classic setting filled with live piano music. The resort's central location also stands out. Katathani Phuket is a popular sunset viewing and dining spot. Accommodation costs (per night) start from THB 3,235.
John Chen is a travel writer currently located in Bangkok, Thailand. He likes writing about Thailand and he writes not only about traveling in Thailand, but also about business, culture, economy, education and food. He often travel between Krabi and Phuket on Phuket Ferry.