Diagnosing car air conditioning problems can be complicated for the uninitiated. However, knowing the basics may save your hide during a trip or save you some hard-earned money during the repair process.
Recognizing the symptoms and knowing what Auto AC Parts are problematic is key.
Not cold enough
When you set your car AC to maximum cool and the fans are set to high but it keeps blowing air that is not just cool enough, then you have to check if the radiator, cooling and fans, are working properly. You have to check if dirt, leaves, or bugs obstruct air that passes over your car AC's condenser. Another part to check is the cabin air filter and see if it's not clogged.
Compressor
Your compressor is one of the most important Auto Air Conditioning Parts. When diagnosing problems, mechanics and air conditioner technicians start with the compressor.
Turn on the air conditioning unit and set it to max cool and fans on high. Then you have to listen for the clutch of the compressor if it is engaging. If this engages and disengages quickly, you might be running low on refrigerant.
Then you have to check the voltage going into the compressor. If voltage is good enough, then you might have a problem with the clutch. If there is no voltage, then you have to see if you have issues with the fuse or cycling switch.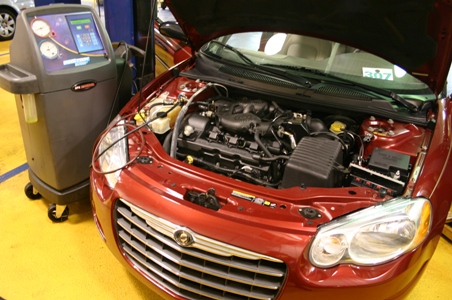 Leaks
One of the most common car AC problems would be leaks. You need to check if all the hoses, fittings, and seals. If they are broken, then these might be causing issues with your car's air conditioning.
Problems with specific auto AC parts
Compressor. When your compressor is problematic, this may cause some debris to be sent through your AC system. Problems in other parts such as the receiver-drier or the accumulator may spread desiccant all over and clog orifices or damage the compressor itself.
Expansion Valve or Orifice Tube. When doing a repair it will be best to replace the expansion valve or the orifice tube. These auto air conditioning parts have very small openings that control the flow of the coolant and these are prone to clogging.
Receiver-Drier or Accumulator. These parts are responsible for trapping moisture within your car's AC. There's a desiccant bag that removes moisture but when there is leak, air can enter and the refrigerant escapes the system. The moisture will render the desiccant bag useless.
Upon buying the car AC parts that you need, the decision is yours to repair the automobile air conditioning system yourself or bring it to the professional. You have to weigh the pros and cons and see if it you may end up saving more bringing it to the mechanic of it the sweat and hours of work repairing your car AC yourself will be worth it.
Discount Auto AC is your answer if you need Auto Air Conditioning Parts. We have a user-friendly website that allows you to shop for Auto AC Parts in as easy as 1-2-3.