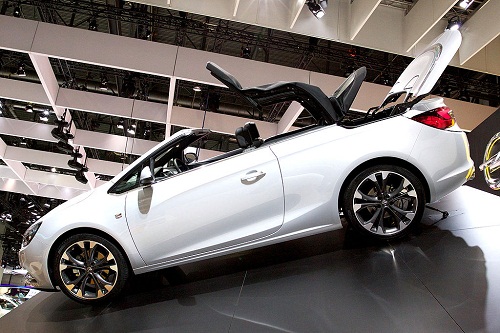 Vauxhall have launched the new Cascada which is a convertible cruiser that will take on the Audi A5 Cabriolet. The new model replaces the Astra Twin Top convertible and has a decent choice of engine sizes.
The Cascada gives a comfortable ride and has a roof which folds down in 17 seconds. The roof can be operated while the car is moving at speeds of up to 30 mph. There are two levels of equipment, the SE and the Elite. All models have the HiPerStrut front suspension that is found in the VXR and this prevents the power from shifting the steering wheel around when you are driving. Even with larger wheels the car is comfortable and it provides a relaxing drive.
The Cascada takes bends well with good direct steering and brakes. The car is weighty and needs the extra bracing on the chassis to compensate for no hard roof. This extra weight makes the model slower in acceleration and overtaking. Although it is more of a cruiser than a convertible sports car, the model does smooth out bumps and pot holes giving a soft ride.
However, the wide pillars make visibility slightly difficult and you will need to move your head around at junctions. Sports seats are never very comfortable and this is the case with the Cascada. Road and wind noise are minimal when the roof is up especially if you pay for the acoustic hood which is extra.
The new convertible is equipped with engines and parts from the Insignia and Astra range of cars. This includes a front camera that has traffic sign recognition and a lane departure danger system. The dash looks like the one in the Astra.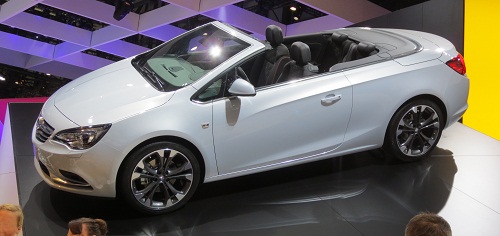 Vauxhall is touting the Cascada as an all year round vehicle as it has four seats with good head and leg room. The boot will hold 380 litres of luggage and this can be increased by flipping down the rear seats which can be done electronically. For the roof to be lowered, a shelf that limits loads has to be fitted. This reduces the boot space.
Vauxhall has set the price of the Cascada to compare with an Audi A3 Cabriolet. So, it is advertising the car as bigger but cheaper than the Audi A5. However, resale values will not hold up as much as Audi models. The top spec Elite model is not as well equipped as the Audi and you need to pay extra for items like Bluetooth connectivity and the acoustic hood. If you require GPS or any of the driver assist features then you will be paying too much compared to an Audi. The range of engines is impressive with the 2.0 litre diesel being the most economical.
If you have purchased a second-hand Cascada, or a new one that didn't come with made-to-measure interior furnishings like floor mats, visit My Car Mats for bespoke and tailor made Vauxhall accessories.