Everyone knows that the spinning reel is the most popular fishing reel these days. And there's good reason for that. It's easier to use the other models, yet holds up to heavy use and performs well in a variety of conditions. Of course, it is like many specialty items – you get what you pay for, so in many instances the more you put into a great spinning reel, the more you will get out of it.
The penn battle 2 spinning reel has the features you're looking for in a great spinning reel – especially for the great price. This fishing reel is rated for saltwater, and is favored by many inshore fishing enthusiasts. It has a full metal body, so you'll feel the quality right away when you unwrap it. The side plate and the rotor are also completely fashioned from all metal construction. This makes for a very sturdy feel and you know it's going to be a tough piece of hardware.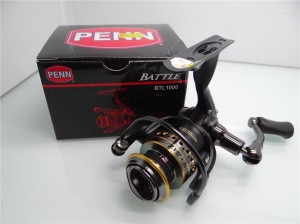 The handle of the reel, in contrast, has a "soft" surface that feels really good and helps with the smoothness of the retrieve when you draw the line back in. The Penn Battle II spinning reel has an added feature on the spool where they've added a rubber inlay. This great idea helps you tie on your line – whether braid line or any other line you might choose – directly onto the spool itself. You don't have to start it with monofilament – this is very convenient and a time-saver.
This reel has the Penn Battle HT-100 drag system with carbon fiber drag washers. This makes for a very smooth operation. A total of five ultra-smooth ball bearings contribute to the smooth feel with no hesitation or sticking. Another feature on this popular reel is the anti-reverse which will work throughout your retrieve action. The bail is of heavy-duty aluminum construction and holds together well with the superline spool.
The Penn Battle II spinning reel is a great combination of beauty and functionality, both of which build a foundation for the angler that equals an enjoyable fishing experience. The full metal body really helps this reel stand up to the harsh punishment you can put a reel through when you use it a lot. The gears and bearing are machined for smooth cast and retrieve, time over time, and also contribute to that joy that grabs a fishing enthusiast when you get out on the water.
This well-liked fishing reel is well-balanced and solid in your hand. You really will enjoy using it for years to come. Just a little basic maintenance, and it stays good to go. The variety of sizes ensures that every angler will find the right size and weight to suit their style and use profile. You will cover a lot of casting with this reel, and still come back to it over and over again for its smooth feel and easy action. Give the Penn Battle II a try – you'll be glad you did.
If you are looking for a penn battle 2 spinning reel, look no further than J and H Tackle. They have what you need for less.