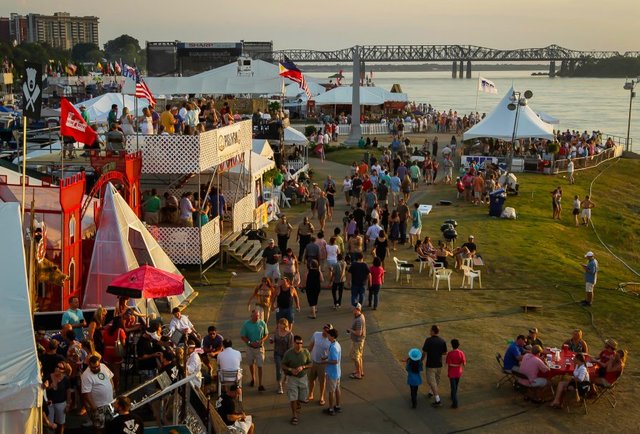 One of the best things about having a hobby is finding others with the same interests, and having an opportunity to converse with each other and learn new things. When it comes to barbecuing, which has grown in popularity the last few decades, there are large festival gatherings where people can grill their hearts out. If slapping some sauce on ribs, making hot chicken wings, and eating delicious bratwurst is up your alley, you may want to check out some of these great festivals around the country.
The International Bar-B-Q Festival takes place annually in Owensboro, Kentucky every second weekend in May. It has been happening every year since 1978, and is one of the best opportunities for locals to raise money for their charities of choice. Not only that, but there is a prestigious competition in which the participants battle every year for the coveted "Governors Cup", to hold the title for the best cooking team. In addition to endless samples of pork, lamb, chicken, and beef products, there are also live performances to entertain visitors of all ages. Some of the other activities include pie eating contests, face painting, and even a 5k run to work off some of those calories consumed at the festival.
The World Championship Barbecuing Contest is held every year in Memphis, TN. This particular event is totally about the competition factor as contributors are judged on everything from their booth decorations to their t-shirts to their grilled foods. Several teams try to beat one another out each year, and it's a great place to investigate all difference kids of hot sauces and delicious grilled meats.
Every fourth Saturday in October, the Jack Daniels World Championship Invitational Barbecue competition takes place in Lynchburg, TN.  Out of all the events out there, this one comes with a slightly higher stake: a prize of $10, 000 to the winner of the title for best cooking in ribs, pork shoulder, chicken, dessert, cook's choice, and Jack Daniel's Sauce. Since this festival takes place right in the home of Jack Daniels himself, there are plenty of other things to do there such as tours of the distillery, a dog contest, live entertainment, a petting zoo, and much more. It is the perfect kind of event for a family of barbecue lovers.
If you happen to be in the Washington D.C. area during the summer, every June the annual award winning Safeway BBQ Festival takes place. It is on the larger scale of events, and over the two-day time period there are several contests, attractions, live music entertainers, and more that fill the streets. You may even see some big name brands participants and contest holders looking to raise money for charity. In 2014, over 1.5 million dollars were put together from this BBQ event for the DC Children's charities and a lot of food was collected as well. There is even a lot for the kids to do too, as this past year several NBA players showed up to the courts in the designated "BBQ Bazaar" area.
If you are looking for the biggest barbecue competition, make sure to head over to Kansas City, MO for the American Royal World Series in October. Here, about 500 teams compete for the title and over 70,000 visitors come to watch. The larger version of the event even takes over two months to complete and has a fantastic parade and rodeo as well. Many of the best barbecue goods and sauces can be found here on site, and there are plenty of other souvenirs to buy as well as activities for the whole family.
Written by the staff of Lutz's BBQ, where they serve up tasty BBQ Columbia MO has to offer.