HTC Corporation (High-Tech Computer Corporation)
HTC Corporation is a Taiwanese Company founded in 1997, which manufactures smart phones and tablets. It's headquarter is in New Taipei City, Taiwan. They initially began with making design and some equipments of the electronic device. Later, they started manufacturing touch screen mobile phones based on Windows Mobile OS. In 2009, they move into manufacturing Android Smart Phones.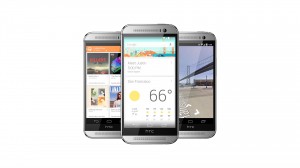 HTC Sense  
It is a GUI (Graphic User Interface) or software suite, which gives Android OS (Operating System) more customized skin and features. It gives various modifications like re-designed applications, addition widgets, and an altered home screen.
The HTC Sense UI was released in the Mobile World Congress 2010. Till then various versions of the Sense UI are released. Lists of the various versions are:-
1)      HTC Sense
2)      HTC Sense 2.0
3)      HTC Sense 3.0
4)      HTC Sense 3.6
5)      HTC Sense 4.0
6)      HTC Sense 4.1
7)      HTC Sense 4.5 or 4+
8)      HTC sense 5
9)      HTC Sense 5.5
10)   HTC Sense 6.0
The Upcoming "HTC M9"
After the release of the HTC M8, now HTC is focusing on its next flagship the "HTC M9". The HTC M8 was a great design change as compare to the HTC One. We expect that HTC M9 will also change things. There is a rumor that HTC will also launch a successor phone with it. HTC would hope that it will be a great smart phone as the M8 is not that much popular. They want to again shock the world like they did with HTC One. Some of the rumored specifications are:-
1)      Screen Size and Display
It might have a screen size of 5.2 inch with QHD (Quad High Definition) display and a resolution of 1440 X 2560 ppi (Pixel per inch) i.e. 2K resolution. It may have a new Gorilla Glass corning in the front display.
2)      HTC Sense
A new version of UI (User Interface) named the Sense 7 will be there.
3)      CPU and GPU
With 8-core 2.7 GHz Snapdragon 805 chipset, this phone will have blazing performance and gaming will be more efficient with Adreno 400 GPU (Graphic Processing Unit).
4)      Design and Built
It will have only one boom sound speaker thus, a lesser bezel size will be there. It shall be 8.3 mm thin. It will include a notification light at the middle of the bottom panel of the phone.
5)      Camera
The duo camera might be removed and an 8 mega pixel Ultra pixel camera will be included with OIS (Optical Image Stabilization). The exciting thing is that it will have an LED flash in the front with the 4 mega pixel Ultra pixel front camera. At the back it will have a dual LED flash only.
6)      RAM
A 3GB DDR3 RAM will be provided with it.
7)      Operating System
A more fluid Android version might be there, may be Android 5.0.
8)      Battery
It will be powered with a 3000-mah Battery.
9)      Storage
It will have an internal memory of 16 and 32 GB.
What's New
The new big thing will be the 64 bit-architecture system with the Fingerprint Scanner technology. It is likely to be released next year during June and will be priced between 700$ to 800$. Moreover, in later 2015 we would also hear something regarding the next generation smartphones, already there are rumors regarding such smartphones which includes named like Samsung Galaxy S7, Xperia Z5 and LG G5.