After the launch of iPhone 6 and iPhone 6 Plus, Apple is back in game of smartphone and phablets. Moreover, with the new iOS 8, Apple has again proved that their best part is software. Now new iOS is more smooth and flawless but still you may discover few bugs, but with time they would be gone, as Apple would be releasing the updates shortly. And yes, the new iOS has gone with interesting changes:
Interactive notification: This function, in spite of its modest scale, was one of the most anticipated in iOS. Interactive notice is indeed the ability to respond to a message from the social network text or even voice directly from Notification Center. Furthermore, it was released a few relevant jailbreak tweaks, but now they are not needed.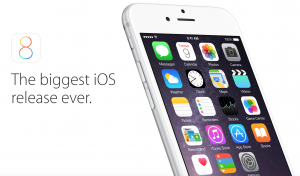 QuickType: Even during a presentation June 2 Craig paid special attention to the audience and to the updated virtual keyboard QuickType, which acquired predictive. Now, typing a word, you can see several options for quick insertion just above the soft keys. Traditional drawback – lack of support for the great and mighty.
iMessage: Lots of Apps in iOS 8 has changed functionally as regular messenger. For example, you can now chat during a conversation to make self and send it as an attachment. To do this, tap and hold the camera icon in the left side of the screen.
Likewise, you can now send the other party a voice message – the microphone icon on the right side of the screen causes the radial menu with the necessary. Recording controls another useful feature is iMessage, which appeared in iOS 8 – sending location data. Call up the menu "Details", you will get access to the data geolocation that can send the other party. Also, you can record audio messages in the Messages app in iOS 8
Application Health and Medical ID: Leaks that Apple is preparing for iOS 8 scale tool for controlling and monitoring the health condition of the body by walking long before the official presentation of the operating system. The application is designed to collect and classify various types of medical records from various devices (implemented the appropriate SDK for third-party developers). In addition, the profile was introduced emergency Medical ID, which must be entered the data needed for more efficient operation of doctors in an emergency. One of the latest update service – analyzer caffeine consumption and a pedometer.
Family Access: Another useful feature for users is the ability to use the same Apple ID for purchases of content for the whole family (up to 6 accounts). The goal of Apple in this case – to get rid of the numerous claims about shopping in the App Store and iTunes, committed by children. When you use the Family Access every purchase must be confirmed with one of the main device.
Every year Apple is adding interesting features in the iOS and we hope same to see the next June 2015 in the shape of Apple iOS 9.