Samsung Galaxy Note Edge was one of the major surprises of IFA 2014. The rumors that Samsung is working on some innovative smartphone screen, wrapped in the face, went a long time, but to see the final product so early no one expected. However, the novelty was very far from the expected, although still very curious.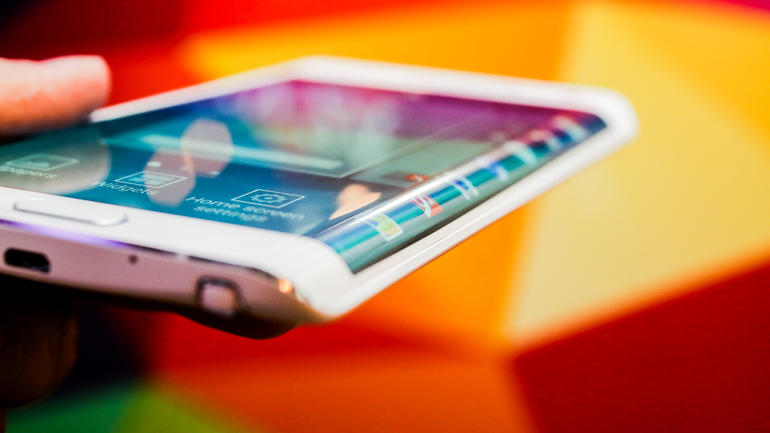 As it turned out, the smartphone is actually used curved screen, but it bent only on one side – the right (if you hold the smartphone vertically, the front side). According to representatives of Samsung (the decision to bend only one side was not due to technical difficulties or uneconomical and extremely ergonomic aspects.
At the same time, the price of the smartphone has been established are still very high. That is, at the moment it is not the most expensive smartphone luxury segment, presented so far in the market.
Specifications of Samsung Galaxy Note Edge
System on chip: Qualcomm Snapdragon 805 MSM8974AB
Processor Krait 450 clocked at 2.7 GHz (4 cores)
GPU Adreno 420
Operating System Android KitKat 4.4.4
Touchscreen display 5.6″ curved, Super AMOLED, 2560 × 1600 pixels, 524 ppi
Memory (RAM) 3GB
Flash Memory: 32/64 GB + 50 GB in the cloud service Dropbox for 2 years
Support for microSD: memory cards up to 128 GB
Communication GSM GPRS / EDGE 850, 900, 1800, 1900 MHz, HSPA + 850, 900, 1800, 1900 MHz
Communication FDD-LTE 800/850/900/1700/1800/1900/2100/2600 MHz
Bluetooth 4.1 LE, A2DP, EDR
Wi-Fi 802.11b / g / n / ac (2,4 GHz and 5 GHz), Wi-Fi Direct, AP
S Pen stylus
GPS with A-GPS
Gyroscope, accelerometer, compass, barometer, heart rate scanner, fingerprint reader
3.7 megapixel camera (front), 13 megapixel (rear) with LED-flash, auto-focus, optical stabilization, f / 2,0, shooting 4K video, Full HD 60 f / s
Battery: 3000 mAh removable
Dimensions 151 × 82 × 8.3 mm
Weight 175 g
As we see configuration, which is very close to Galaxy Note 4 and surpasses competitors in a number of parameters (note that this is only about the technical specifications, and not the custom quality).
In terms of technical characteristics carp really do not need it. Well, maybe it is a pity that the battery capacity is slightly less than that of the Samsung Galaxy Note 4. But otherwise we face undoubted flagship. However, we cannot say that it is for some parameters were out of the competition and set new standards and a pixel density of the screen, and a RAM, and camera parameters is not worse (and even better). But all together it still is really a flagship configuration.
Samsung engineers have worked hard on the design of Galaxy Note Edge and we hope to see the innovation with upcoming beasts like Samsung Galaxy S7. But the release date of S7 is no near, firstly Galaxy S6 would make its entry in early 2015 and later in 2015 we might hear something from Samsung. Also, next year Galaxy Note 5 is going to be interesting and expecting another Galaxy Note Edge 2 from Samsung is still in dilemma.