Not everyone is a winter person, it has to be said. For many, the constant deluge of cold weather, short daylight hours, defrosting the car and shivering miserably under several layers of blanket gets very old, very quickly. Fortunately, we are no longer in an age where, if cold winter threatens our mood, all we can do is grab another winter coat and desperately think warm thoughts. If we cannot bring the summer to us, we can just go to the summer. There are a large number of beach resorts that are open all year round, all offering warm temperatures, breathtaking views, and a very welcome break from the monotony of winter.
Here's a list of our top beach resort destinations that are open during the winter, so feel free to grab your swimsuit and suntan lotion and prepare to get that much-desired winter solstice tan!
Kauai, Hawaii
Unlike the other Hawaiian Islands, Kauai has managed to remain fairly obscure to most holiday makers, and that is responsible for a great amount of its appeal. Offering verdant green mountains, white-sand beaches, and tropical blue seas, Kauai is pretty much the physical representation of a winter getaway, without the crowds that more well-known resorts may suffer from.
As well as sun and surf, Kauai also offers fantastic accommodation and food, and is only a six-hour flight from LA and San Francisco. You can either stay at one the many small hotels that the island has on offer, or rent out your own vacation apartment with their own en-suite facilities.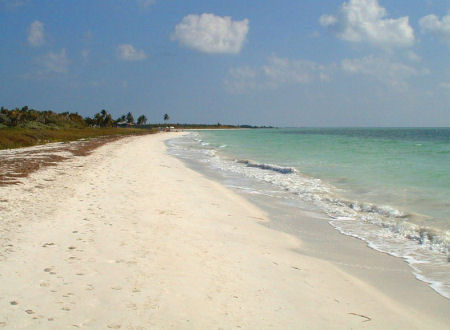 Florida Keys
For those on the East Coast, Hawaii is a world away. However, while you may be forced to miss out on the delights of the Pacific, you still have complete access to that famous Caribbean splendour instead. In particular, the Florida Keys have long been a favourite amongst winter vacationers, the archipelago consisting of no less than 1400 different islands. So there's bound to be something for everyone, whether it is fast paced action on jet skis and power boats, secluded relaxation on the beach, or some good old-fashioned off-shore snorkelling.
For those looking for a little isolation during their stay – probably welcome after all the Christmas activity – we can heartily recommend the Little Palm Resort and Spa. Accessible only by boat or seaplane, you'll pretty much be left to your own ends for as long as you please.
St Martin and St Maarten
For those looking for a real cultural mix, you can certainly do worse than take a short trip down St Martin and St Maarten Island. Representing the true oddities of the colonial heritage of the Americas, the island is literally split down the middle, one-half being Dutch and the other half being French. It offers everything from culture, to sun, to high dining. The French heritage of the island truly manifests itself in the cuisine the island offers, while naturally St Martin/Maarten also offers nothing less than the sun and surf that is so famous in the Caribbean (and a great place to show off the bikini you just bought at www.brazilian-bikinis.org)
Jamaica
The capital of the world's reggae scene, Jamaica has long since been a favourite of everyone the world over as a holiday destination irrespective of the time of year. The rich and vibrant Afro-Caribbean culture of the Jamaican people is doubtlessly the island's main draw. As well as the perpetually sunny and warm climate, there's also plenty to be found in Jamaica's thriving music scene, and the island's cuisine is truly something to be experienced before you leave.
Kingston and Montego Bay are probably going to be your main ports of call upon arriving on the island, but doing so will probably restrict you from the other cities on the island. Look around carefully, and you are sure to find your corner of paradise.
Los Cabos, Mexico
For those looking for a little more nightlife as opposed to seclusion, than Los Cabos is for you. Not everyone's idea of a winter beach resort revolves around sitting on a beach all day, after all. If Los Cabos lacks in anything, it is not a nightlife. Offering plenty of excitement during the evening with lots of tequila and local culture, while whale watchers will be pleased to know that they can see some of the largest mammals on earth during January to April just off the coast.
Las Ventanas Al Paraiso, in particular, offers luxury service with ease of access to all of Los Cabos's main sights and attractions, as well as offering such services as personalised cooking classes and excellent dining.
The writer, Christian Mills, enjoys traveling the world and seeing the many sights that are on offer all over the globe. He writes giving advice about where to go and what to do. If you wish to learn more about Christian you can visit his profile on Google+.