Drinking delicious craft beers in Echo Park is an experience that everyone should have, and that is especially true with it comes to the unique Mohawk Bend bar. The family-friendly atmosphere is inviting, there is plenty of food to go 'round, and the extensive selection of more than 70 different craft beers means you will have to come back every weekend for months before you will get around to tasting them all.
More than 70 Beers on Tap
Whether you only know the common pale lager or you are a self-professed beer snob, Mohawk Bend keeps more than 70 of the best craft beers in Echo Park on tap at all times. You can experience some of the region's best IPAs, including Point the Way and Wolf Among Weeds from Golden Road, or you can try one of the thick, hearty stouts on offer, such as the Smoked Porter from Stone or the Barney Flats Oatmeal Stout from Anderson Brewery. A few unique choices are available, too, and these include Golden Road's Hefeweizen and Berliner Weisse. For something a little different, the Or Xata Blonde Ale from The Bruery tastes like cinnamon and vanilla without being overly sweet.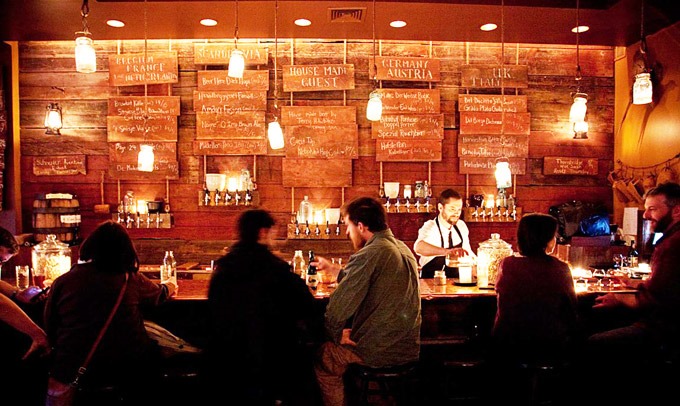 Wine and Cocktails
Although it may not come as much of a surprise that a bar would offer wine and cocktails, but aside from the craft beers in Echo Park offered by this restaurant, their cocktails are made fresh from 100% California local ingredients. They source their fruits and juices locally, and they make their very own tonic and ginger ale. Some of the most popular house cocktails are the Seals&Croft, the Vassar, and the Griffith. All of the wines stocked at Mohawk come from California wineries, and they always keep at least six on tap in delicious whites and reds that pair well with any one of the bar's signature snacks or entrees.
Delicious Food at Any Time of Day
Mohawk Bend is one of the few bars in the area that not only serves snacks and entrees, but also breakfast, lunch, dessert, pizza, and salads. The menu here is extensive, and the majority of the items on the menu are all vegan. Ingredients are organic, locally sourced, and craft-made whenever possible. The bar offers a pizza-of-the-month known as "Piece of the Pie", and for April 2015, this was the Keep Abreast and Curry On pizza with chicken, curry sauce, cauliflower, fennel, spinach, cilantro, and dried cranberries. The famous baked potato pizza is not only vegan, but is also unlike anything else you have ever tasted.
If you are interested in finding some of the best craft beers in Echo Park, look no further than Mohawk Bend. It's the perfect place to take the entire family out for dinner, to enjoy a date, or even to enjoy a night out with friends.
Craft beer fans Jacob Nelson and Everett Norman, provide their expert review on one of the most famous craft beer bars in Echo Park, Mohawk Bend bar.