Up and down the UK, mobility scooters are transforming tens of thousands of lives each and every day. We're lucky to live in the kind of country where disabled access to literally everything the UK has to offer is not just an option, but something of a guaranteed right in accordance with British law. With the right mobility aid, each and every corner of the country and everything the UK has to offer can once again be opened up in its entirety. And while it's only fair to accept that the subject of scooters may be a difficult one to bring up for those facing the reality of disability for the first time, the difference the right scooter can make at the right time is simply extraordinary.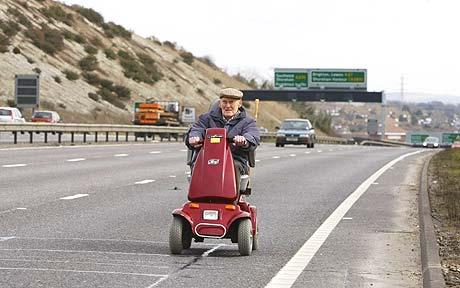 Of course, as is the case with any other motor vehicle for use on the UK's public roads and pavements, there's quite a lot to learn when it comes to the basics of scooter ownership and operation. So, in order to bring to light some of the most important basics, what follows is a brief roundup of just a few of the key points as outlined by the Department of Transport code of practice for powered mobility scooters in use in the UK today.
Scooter Classes
As of now, there are three separate classes of powered mobility devices that can legally be used in public in the UK today, which are as follows:
Class 1 – manual wheelchair, i.e. self-propelled or attendant-propelled, not electrically powered;
Class 2 – powered wheelchairs and scooters, for footway use only with a maximum speed limit of 4 mph;
Class 3 – powered wheelchairs, and other outdoor powered vehicles, including scooters, for use on roads/highways with a maximum speed limit of 8 mph and facility to travel at 4 mph on footways.
Where Scooters Can Be Used
Generally speaking and unless otherwise stated, all mobility devices across the board can be used legally on standard pavements, footpaths and pedestrian areas across the UK with no license or specific training/certification required. Class 3 mobility devices may also be used legally on most roads of a quieter nature, though must not be driven at a speed in excess of 8mph. More often than not, the person controlling the scooter is responsible for determining the safety of the road/pavement in question in order to determine which is safer to use at the time. For example, if a quiet road becomes extremely congested during rush hour, the pavement should be used.
Legal Requirements
As mentioned, all classes of mobility scooters are not officially classed as motor vehicles in the UK and therefore do not fall under the same rules and legislation as standard motor cars. Not only do you not need to have a driving license to operate one, but there is also no tax to pay. There is also no specific law to say that you must purchase insurance for your scooter, but it is highly recommended that you do so. The reason being that if you were to get into an accident that caused either damage to the property of another party or an injury, it may fall to you to foot the bill. What's more, scooters are in high demand up and down the UK, which makes them an attractive target for criminals, so it's a good idea to have insurance in place just in case.
Build Features
There are also certain things that must be taken into account prior to buying the scooter itself, in order to ensure it can in fact be used legally in public here in the UK. Generally speaking, it's rare to find a retailer selling anything but 100% legitimate scooters, but it's still a good idea to check on the following just in case:
The total weight of the scooter without the passenger should be no more than 150kg
The width of the scooter must be no more than 0.85 metres
The scooter should be fitted with a speed limiting device and also be capable of travelling no faster than 8mph
The braking system of the scooter must be up to standard and tested
Light, indicators and mirrors must all be present just as is the case with a standard motor vehicle
There must also be a horn or warning instrument of some kind fitted as standard
For more information on scooter purchase and operation, get in touch with your local dealer and arrange a free consultation or test-drive.