In this competitive online world, websites need to undergo the redesigning process once in four-five years.Giving a facelift to your website requires lot of planning as you have to decide what to keep and what to discard. Are you too planning to get your website redesigned because of few glitches, you are facing in terms of functionality? Or maybe you want to add some information about the newly launched products or you just want to give it an overall fresh look.  The reason could be anything, but one thing is sure that you want your website to be just perfect and to be with times.
Yellowpages.com went in for a website makeover and retained their patent black and yellow color. The new design incorporated additional services to make the website user-friendly. Like yellowpages.com more and more websites are opting for re-designing because of localization as they are including content relevant to local areas.
Before taking a final plunge into website redesigning, it is always better to make a strategy in advance by answering few questions and drawing a number of points you want your website to have. Whether you are setting up your website for the first time or giving it a facelift, these points will help you in both the cases.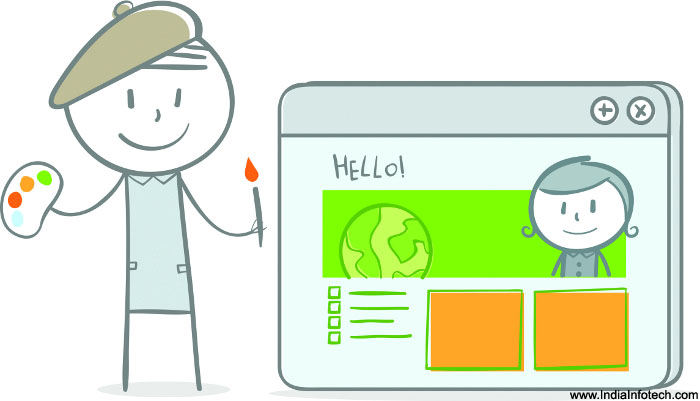 1. Answer Why? Answer yourself why you are going in for a website redesign? Are you not happy with the way your website functions or you simply want to make product related additions? Have you entered in a new business, so a makeover is must? Or do you feel that your website is not up to date with the present-day applications like animations and videos or is it just that you want different colors and designs for you website? This will help you figure out what exactly you want in your website and what you have to eliminate.
2. Do a Website Audit: Go beyond what you and your team think of the website. Do an audit that helps you know what attracts most of the traffic on your website, what leads to conversions and what causes the bounce backs? Find out the average time a user spends on your website and time of the day, when traffic on your website is the highest.Is the content creating problems or the site functions are complex? With the site analytics and statistics, you will come on terms with the reality and will be in a better position to decide about the dos and don'ts for the face lift version of your website.
3. Make a List of "Must Haves": – Make a list of points that are essential from the business point of view as well as from web presence viewpoint.Tell your SEO expert to choose the best URLs and taglines for better sales conversions. While redesigning a website, it is crucial that the web designer does not ditch previous links at any cost (These links bring all the past visitors back to you). That is the main reason why some experts are of the view that careless redesigning could prove to be dangerous for a company, as it may lose visitors who visited your site earlier.
Besides, you can also change the old CMS(Content Management System) and opt for the new one, where it is possible for you to make little updates like adding the photos, products and create new blogs. This CMS shows that your website is moving with times.
Just analyze, what are the current keywords that help your business and how you could retain them in the newer version. A compelling home page leading to CTA (Call To Action) pages and providing all the information a visitor wants should be a priority, because a less informative home page leads to maximum bounce backs.
4. Decide What to Keep from the Current Site: – Before giving a go ahead with the list of must have points, it is important that you decide about what from the current website will continue to be there. There could be few URLs and pages that have brought the most traffic to your website in the past; you will certainly not like to forego them. Few pictures and content that feature in your goals and list of must have points and do well in the audit are sure to be there in the upgraded website. Just remember that the redesigning website is to give your website a makeover and not completely changing it.
5. Make this Facelift Convenient and Comfortable:- If your website is already doing well and you have to give it a makeover owing to some functional glitches or some necessary additions, make sure that it should be convenient for the users. They should not just land on a completely different site suddenly. There should be few things like navigator, which remain just like the older version. In short, the change should be smooth and pleasant.An evolutionary redesign that changes the site completely often brings in greater risk. Therefore, the approach should be on reducing the risk.Make sure that you allow the moved data to be redirected with 301 redirects. It is also necessary that the error pages bring useful information for the visitors.
6. Look Around – Your business always has an impact of what your rivals in the market are doing. The rule applies to the online market as well. You can visit the websites of your rivals, find out how are they different and are they doing something better? You are not supposed to imitate them in everything but learning from their methods and styles could prove to be a great assistance for you. These days' social networks are instrumental in the success of e-commerce ventures and you will observe that most of your rivals will have social networking site buttons and RSS feeds on their pages.You could choose to go with these. Not only,will it give your site a contemporary feel, but will also provide your products a larger platform through social networks.
Over the last one decade, significance of a website for all kind of business owners has increased tremendously. It unlocks a new world of opportunities for a business, with a larger number of target audiences.  You must remember that your website has to be informative about your business in the most convenient and comprehensive way, while losing no points aesthetically. So keep the above mentioned strategies in mind to redesign your website and you are good to go!
ABOUT THE AUTHOR:
Ketan Sethi is founder of EyeForWeb, a team bent upon providing world class IT and web services including Web Design & Development, Mobile Application Development, E-commerce Development, SAAS and ERP Development.