Imagine boarding the 52' Thunder 1 aft cabin trawler for one of the best fishing charters in Prince Rupert. Your scaled quarry?  Coho and pink salmon.  Your destination?  The salt and fresh waters of Prince Rupert, BC.
Coho salmon (aka silver salmon) spend the summer months in the Prince Rupert area.  They arrive in July swimming from the saltwater environments to the freshwater areas of Prince Rupert.  Coho spend the summer months rapidly growing.  They can range in weight from an average weight of 8 pounds to a substantial 35 pounds.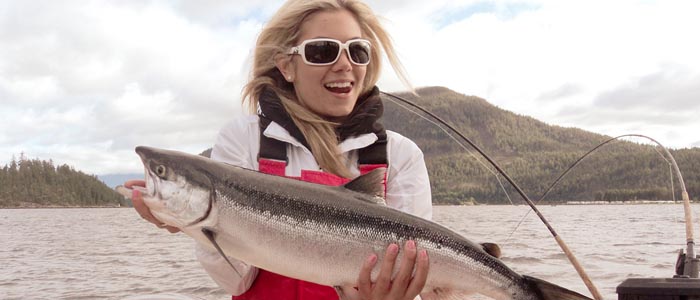 Coho salmon have been used for trade between indigenous Pacific tribes.  Ironically, the Coho is considered by some tribes as a symbol representing life and sustenance although no one seems to know how long a Coho salmon lives.  They spend approximately the first half of their life cycle in streams and freshwater tributaries and the other half in the salt waters of the Pacific Ocean.  Coho return to the exact fresh water tributaries of their birth to spawn once, and then die.
Unlike the Chinook that favour deeper feeding grounds, Coho salmon will swim closer to the beaches to feed, but don't be fooled by this seemingly "easy pickings" behaviour.  Coho can put up a tremendous battle, often successfully avoiding capture by the novice angler.
Many people are familiar with pink salmon (aka humpback salmon, Humpy, Haddo, Gorbusch, and Holta salmon).  It is considered to be the most abundant Pacific salmon.  It is the pink salmon species that is harvested and commercially canned.  If you've eaten canned salmon, chances are that it was pink salmon.
Pink salmon's abundance is said to be "notoriously difficult to forecast."  Whereas the longevity of the Chinook is unknown, the pink salmon has the shortest lifespan of all Pacific salmon – at 2 years.  For 1-1/2 of those 2 years, pinks reside in the ocean, returning to the freshwater tributaries to spawn where they were born and then die.
The expert guides of Thunder 1 Adventures know the beach areas where Coho and pink salmon are likely to be found.  They can outfit you with the necessary angling gear for a day's fishing or longer.  And when you are finished with the day's exertions, relax in the comfort of Thunder 1's luxury accommodations.
Thunder 1's crew and guides are committed to ensuring that your fishing experience is comfortable as well as successful.  No wonder many Thunder 1 guests book return fishing expeditions year after year!