Information is the key command, controlling the world around us and everything in it. IT is growing at an explosive rate, and with it, risks of sharing unwanted information have increased. You can't imagine how much personal data some people keep on their phones. Privacy is one thing, your phone may also contain your emails, passwords, secret photos, messages, information about your bank accounts, and what not.
For most people, just hitting the delete button is more than enough to get rid of the useless stuff. If you are concerned about your privacy, you must reconsider. The 'delete' option on your phone only labels the data as 'trash', so it can be overwritten later. But, the data is there in its entirety, ready to be recovered, which is easily achievable through a good data recovery software. The real solution is a complete wipe out. For your Apple devices, nothing does it better than Wondershare SafeEraser. Let's talk about its features in detail: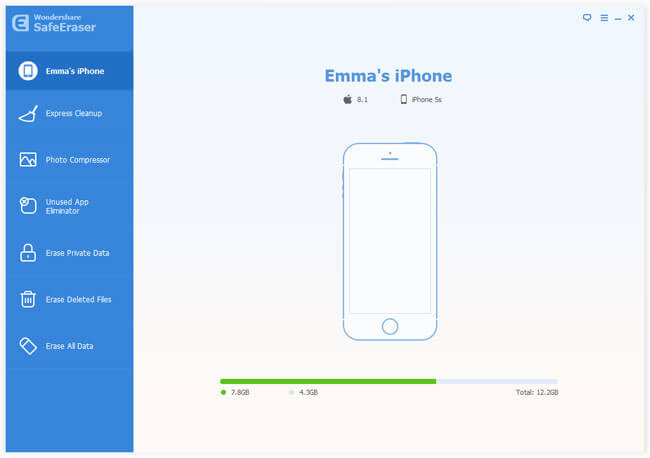 Function
Wondershare SafeEraser renders a safe and sound method to completely eradicate any kind of data from your iPhone, iPad and iPod Touch. It can effectively burn empty your contacts, videos, photos, apps, account info, passwords, messages and safari bookmarks among many others, for never to be recovered again. It allows you to select what type of data you want to erase. Through the main interface, you can either opt to wipe out deleted files (sms, photos, videos, call logs etc) or permanently delete all the phone data and restore your device back to default (factory) settings. This option comes really handy, especially when you are gifting or selling your phone to another person. As an ex-owner, you can rest assured that your secret and important information will not transfer to the new owner.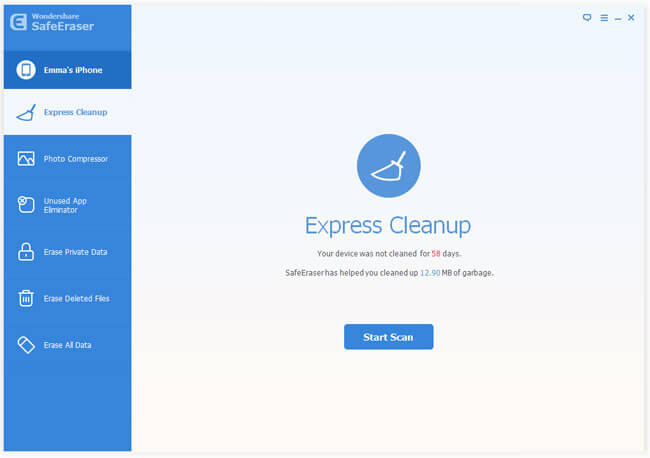 Reliability
There are three modes of data deletion. The Quickest way to do it is through Low intensity mode (1 pass). This will flush your entire phone with a blank sheet of nothingness, and all your data will be erased. The Medium (2 passes) intensity mode will not only eradicate data from your device, but clear the tracks as well. So, no one can ever find out if any data was there. The High (3 passes) intensity mode is the best that you can get, with DOD 5220 – 22 M standard for data shredding, it takes a little longer to complete, but once the process is finished, nothing comes out of it alive.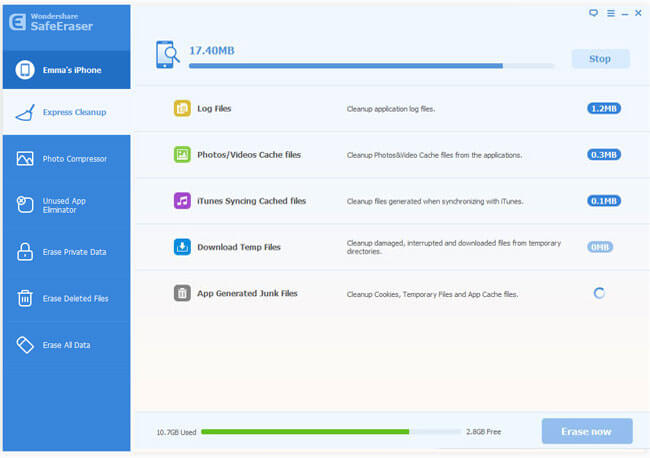 Other Features
Not only SafeEraser takes care of your privacy, but it can also help you save some storage space with its powerful photo compression tools. That is in addition to clean up tool that removes unnecessary temporary and unused junk files that you cannot access.
Supported Devices
SafeEraser supports multitudes of iDevices including iPhone 5S/5C/5/4S/4/3GS, iPad Mini, iPad Air, iPad 4/2/1, the new iPad and iPad Mini with Retina and iPod Touch. It is also compatible with Windows from XP to Windows 8.
Final Words
Privacy protection is the reason why data shredding software programs are becoming so popular these days. SafeEraser is a reliable tool to safeguard identity and information theft. Wondershare also extends 24/7 livechat support and free trial version. Moreover, you get a 30-day money back guarantee as well, so give it a try, you have nothing to lose. With packages starting from $19.95, SafeEraser stands out tall among its adversaries.