Right now you must be either sitting sadly at home or feeling irritated by your work pressure and strongly desiring to give some time to yourself and rejuvenate your soul. But most likely, you are falling short of money and wondering whether your limited pay check would ever let you visit the world famous adventurous land of Tanzania!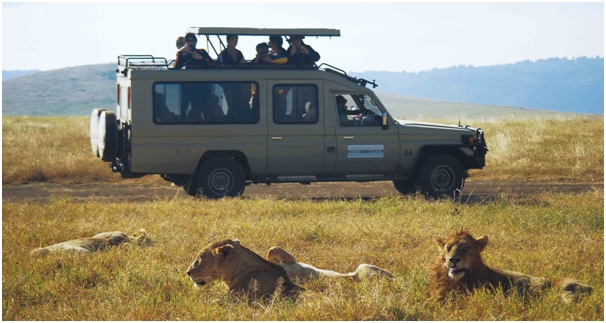 However, if you are clever enough and reading this blog, then you would know that you can make some of the finest tailor made choices and low priced safaris that will be well within your budget, and designed by professional guides who love to pamper their guests and show what Tanzanian safaris are all about, without letting the money factor come in between.
Under US$ 1, 100 budget Safaris for about group of 5 travellers (prices can be variable based on seasons and other factors)
Tanzania Wildlife Camping Safari
This affordable and cheap safari usually start from the Arusha National Park, and then take you through the Serengeti and Ngorongoro Crater or the Tarangire National Park and the Lake Manyara National Park and thus helps you touch and fully explore all the famous East African wildlife expedition, without spending too much. Choosing the budgetary public night camps instead of lodges will not only keep you in tune and close to the wildlife, but will also help in cutting down your expenses.
Mount Meru or Mount Kilimanjaro Trekking
This package is typically for all those who love hiking and trekking. You would require travelling through the Arusha National Park to reach the Mount Meru or travel further to see the spectacular views of the world famous Mount Kilimanjaro and the wildlife in its vicinity. The hiking trails can be challenging, but if you are acquainted with trekking and equipped with the right gears and professional assistance, you can easily conquer these mighty heights.
Under US$ 2, 200 budget Safaris for about group of 5 travellers (prices can be variable based on seasons and other factors)
Private Camping and Lodge Safari
If you don't want to compromise on comfort, and yet keep your expenses low, then you may choose the private camping or lodge safaris. The package often promises to take you to all major tourist attractions and make your halts with private camping. With this budget safari, you can easily avoid the chaos of public camping and create a glamorous space of your own.
You can also visit the Stone Town and relax along the spice island with this budget. The expenses usually includes and features attractions like a visit to the Chumbe Island and Pemba Island, exotic view of the coral reefs and the magnificent forest reserves and sport activities like scuba diving and snorkelling.
Thus, as often wrongly perceived, it's not too difficult to explore the Tanzanian wildlife heritage without a hefty sum. For a long lasting and memorable Tanzanian experience at a cheap budget safari, you may follow some of our advices like:
Opt for a public camping site rather than a lodge.
Choose the right guide and ask him about the best travel plan.
Don't waste too much money on useless travelling and lavish vehicular arrangements. You can also choose the delightful walking safaris.
Choosing the right time and the relatively low season months, can also fulfil your dream to explore East Africa without a financial overload.
Group safaris can usually turn out to be overall budget friendly safaris.