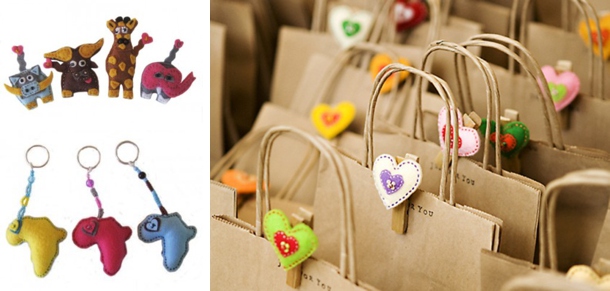 Crafting is a rewarding hobby, enabling you to relax, socialise, be creative and gain real self satisfaction from the things you create. But crafting needn't just be rewarding for you, it could be something that benefits others if you want it to.
Many people who do crafts (usually who don't sell them regularly as a business but not always) don't make money from the craft or don't really tend to share what they make unless it is amongst friends and family. Perhaps you're thinking about being more giving in 2016 and would like to use your craft to spread goodwill, but you're not really sure how. Here are some ideas to help inspire you:
Why not use your hobby to help spread the message of the charity you want to support. Perhaps you could add a little label onto the back of something you have made asking people to read about a certain charity. For example; you could use card making supplies to create some Christmas cards that project the message of the charity somewhere on them, all whilst also showcasing your talents. Exposing the good work of a charity can be really great as it helps the charity raise awareness and forms a talking point if the receiver of your gift then asks you about the charity.
Raising Money
It may seem daunting selling your craft items for money as a business if that isn't the reason you're crafting, but selling them for charity isn't nearly as scary because people are supporting the charity as a primary reason for buying. However, it is still worth creating something that would appeal to a lot of people if you are selling it for charity, because of course you want to make the most money. Sell online, at a local charity auction or table top sale.
Making Items For A Charity To Sell
Perhaps a charity is asking for raffle items or items to auction for its own sale, in which case you can make something incredible for them to make money with. Ask them what type of things they are interested in selling and put everything you can into making it amazing – they are doing all the selling and organising, you just need to put your best creative foot forward now and make something they can get lots of money for!
Making Items Directly For A Charity
There are lots of charities you can craft items for, and it can be extremely rewarding. If you love animals, there are charities needing jumpers for bald ex-battery chickens while they grow their feathers back, cat shelters needing knitted cushions and blankets for the cats. There are premature baby and children's charities that need items of clothing made. A smaller charity may need an amazing banner made for their charity auction and you just happen to be in the mood for a large sewing project. Have a look around to see what people need, taking care to look at smaller forums where smaller charities may be listing details.
Donate Items To Organisations Making Items For Charity
There are lots of people making items for charity, and some of those people might be really skilled, but haven't got the funds themselves to buy supplies for their charitable crafting projects. Perhaps you have an old hobby you had supplies for that you no longer need, or you have excess crafting supplies, or you would simply like to help others craft for charity. Whatever your reason for being able to provide others with supplies, it is a really great thing and your donations will spread your charity even further, helping even more people.
Let Other People Know
If you find a really excellent charity to craft for and belong to a local crafting group, tell them about it! The more people that know, the more people that can help. Also, don't forget to mention it on social media so the word can spread even further.
Take A Look Around!
If you would love to help charities with your amazing crafting experience, always make sure the charity is registered and legitimate before giving them anything.
Take the time to look around and look at lots of different ways you can help different charities to find an approach to suit you. Remember, by giving your time, effort and craft creations you're helping others, which is a really great thing and something we should all try to do more of!