For some people, moving can be a difficult and stressful task. It can also be a stressful task for Nanaimo movers. So imagine how your pets may also feel. Your pets can get anxious and stressed out if there is an unanticipated activity or if they are brought to a new environment. It's not an easy job. These problems don't come in formula solution; however, below are some tips that you can use so your pets won't get so riled up.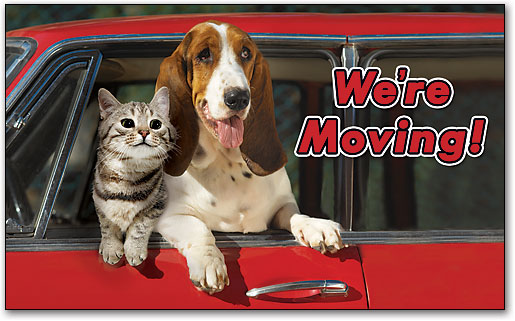 Study the pet rules and regulations.
There are landlords or homeowners' association that have particular rules when it comes to pets. Your pet may have to have supplementary medications, vaccinations or certificates depending on where you will be moving. All of your queries can be answered by calling the local animal control facility.
Speak with your current vet.
If you want further information, your veterinarian can help. If your pet doesn't like travelling, your veterinarian can recommend meds or behavior modification techniques that can help your pet not be anxious during travelling.
Find a new vet in your new place.
Before you move to your new home, look for a new vet. Your current veterinarian may be able to recommend you if he or she knows a colleague in the area. After finding a new veterinarian, it is advisable to make an appointment as early as possible to get established.
Gather your pet's medical records.
Before leaving you for your new home, make sure you acquire all your pet's medical papers to give it to your new veterinarian and make sure to locate the nearest emergency animal center and get their emergency phone number.
Update your address.
Don't forget to make new identification tags for your pet with your new phone number and address. Also, don't forget to update the contact information on your pet's identification microchip if they have one.
Keep things normal.
Try packing your things over a long span of time so your pet will think that everything is just normal. This will make them less anxious. If you have a cat, it's much better to move or place their carriers outside weeks before you move. Also, do not pack your pet's food away. Keep the food, bowl, meds, water and other vital supplies from the moving truck and always with you.
Be ready for air travel.
If you're planning to move your pet internationally or travel them by air, make sure to know all the rules and regulations before you leave and also don't forget to bring with you the documents of your pet.
After the moving day, don't let your pets wander around the neighborhood until they are accustomed.
Take your pets outside and let them explore their new environment and show them how to get home. If you let your pets out in their new environment immediately, they might get anxious and run away. Ensure that the identification tags of your pets are fully secured in their collar.
If you are moving, contact Sunrise Moving & Storage to learn more about their speciality which is helping pets move.