Are you dreaming of getting a gorgeous kitchen complete with that high end look if so you're not alone. Kitchens have come a long way from being a functional room to prepare and enjoy family mealtime. Complete kitchen remodels can run as high as $50,000 but experts say the amount you invest can return 80 to 105% you spend when a home is resold. It is possible to update the look of your kitchen, even if you have a limited budget.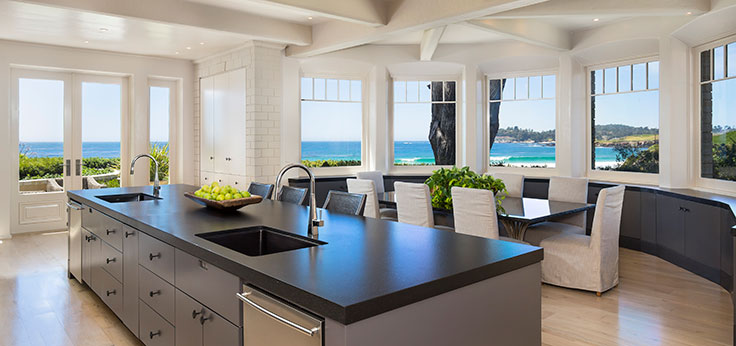 Let's say you have a budget of $5,000 and thinking of giving your kitchen a facelift: repainting the walls, changing out faucets and hardware, installing new lighting, changing the fabric on window treatments or chair cushions can change the look and have a big impact.
With a budget of $15,000 you can add replacing appliances and countertops to your list. By shopping wisely or doing some of the work yourself, you can also afford new cabinets. There are some great deals on lightly used appliances when some homeowners replace appliances to upgrade and don't wait to buy new ones when they break down.
The average cost of a complete remodel, tearing back to the studs can run $50,000 possibly even higher. Again by doing some of the demo work yourself and carefully selecting materials and cabinets homeowners can manage on a smaller budget.
Options for Custom Cabinets
Purchasing new custom cabinets can eat up a big chunk of your remodeling budget and hiring a cabinet maker is expensive. Pre-manufactured cabinets have really improved over the years and are worth considering. Do it yourselfers can install themselves, saving money and some high quality modular cabinets even come with a warranty.
Affordable kitchen countertops
While most homeowners would love granite or stone countertops they are a pricey item, even engineered stone can inflate your budget. Ceramic tile is a great option and available in a wide range of colours and materials or even laminate can spruce up your kitchen. Solid wood countertops can be cut, sanded and treated to the homeowner's specifications and worth some consideration.
Kitchen appliances
Experts say a higher end appliance doesn't always mean a more reliable appliance they still perform the same function. After all, basic models may not be a gourmet chef worthy, but spending your dollars where it counts the most for your needs.
Affordable flooring
When it comes to new flooring the materials in the less expensive choices often prove to be more durable in high traffic areas. Ceramic tile stands up well and is easy to keep clean or consider installing one of the plastic laminates for a different look. Some careful planning will keep your kitchen remodel from blowing your budget.
If are require a custom cabinet maker in Victoria BC, contact Seaside Cabinetry & Design.