Nothing is beautiful than a girl clad in traditional Salwar-Kameez. The traditional dress from Punjab and parts of Himachal, salwar suits are worn by women across the country today. While it is decent and comfortable, if worn correctly, salwar-suit can make you look elegant. There are different options available for women today based on their taste, background and body type. Suits come in various designs and colors and can be teamed up with lovely accessories to complete the look. However, in a world like ours, where everybody wants to look perfect at all times, where according to media stunning is synonymous to slim and trim, it is important to choose the suits which fit you the best and flatter your body. Here a few tips to look slim and gorgeous in salwar-suits.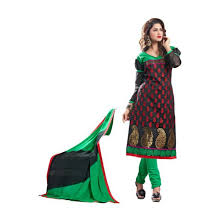 Right fabric
It might sound random and unimportant because who checks the fabric of a piece of clothing? However, choosing the fabric that suits your body type is very important.  If God has blessed you with a beautiful thin body, you can go for fabrics ranging from cotton to net. However, if you are on the heavy side, you should avoid wearing tissue and net as they blow up and make you look fatter. Also avoid body-hugging fabrics if you are flabby.
Right length
Most of you already know and understand this. It is just like dresses.Experiment with different kurta lengths and go with the one which makes you look taller. Looking tall automatically gives apperception of thinness. A lot of people prefer buying kurtis online as there is a greater range and also an appreciable discount on your favorite brands.
Right Color and Designs
Black is the best friend for people who are fat. While yes, black does make you look slimmer, that is not your only choice. Dark colors do the same trick. People on the heavier side should avoid wearing bold prints, big polka dots and horizontal stripes. They make you appear fatter.
Accessorize right
Accessorizing is crucial for the process of fooling the eye. Diverting people's attention away from your flabs and onto you beautiful earrings is an old trick in the book. Do not overdo the accessories. Do not put unnecessary attention on parts of your body that you want to hide. This is a very common mistake.
Right footwear
Heels are the answer to almost all your problems. Irrespective of your size, heels complete your attire.
Be confident. Smile.
Confident is the new sexy. Be confident about your choice of clothes, your looks and your body. Put on a lovely smile and there, you are ready to go.
Remember, it is your body. Nobody has any right over it. Learn to love your curves and carry them with confidence. Women suits are one of the most worn dresses in the country. It is not necessary to become anorexic in order to please the world. Instead, focus on pleasing yourself.