The message is out there and we are all aware how important it is to get out and engage in some form of exercise.  Inactivity has been compared to smoking it poses such a risk to our overall health. Our bodies are meant to move so why is it so difficult for many people to start and continue a regular exercise routine. Let's examine some of the reasons that starting is such a challenge and especially for seniors in Victoria care homes and what are some ways to show our loved ones physical activity can be enjoyable.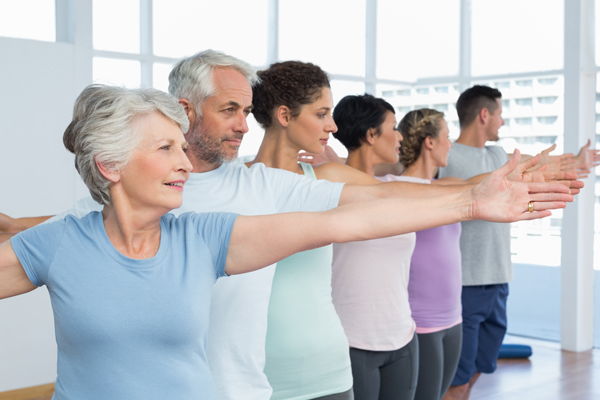 Current recommended guidelines for those over 65 are as follows:
– 150 minutes of moderate to vigorous aerobic exercise, in 10 minute bouts   -Weight training 2 times a week to help with daily household chores.
Weight training is important for example to maintain knee strength for easier transition from standing to sitting. Becoming weaker as people age doesn't have be the outcome and remaining active allows seniors to live independently longer.
It's possible many people associate exercise with things like jogging, running or biking and see it as boring and lonely. Humans are social creatures which could explain why community centers offer dance classes that fill up quickly.  Drawn by the sound of laughter,  participants are able to fill their need to be engaged with others and the support they receive is welcome as they learn. Knowing the group support aspect is important especially for seniors it should be more clearly stated in exercise guidelines.
Some great examples of group activities exist that attract seniors and we've listed a couple of examples below.
Tai chi works well as a group exercise activity with it's balance training, remembered choreography and social engagement. You may have seen groups at shopping malls or outdoors performing the routine by memory.
Aerobic and dance classes fill up quickly anytime they are scheduled at local community centers. Centers with swimming pools offer aqua aerobics, step aerobics allow even those with mobility issues to take part. While the high energy of a zumba class may not be for everyone other dance classes are available. In a safety supervised environment beat gets them moving, can stir memories, start conversations and/or simply put smiles on faces.
These are just a few of the possibilities that might encourage more seniors to embrace physical activity. Aside from the physical benefits of taking part in group exercises it can also provide mental stimulation and the opportunity to develop some social connections. These connections can provide a network of friendships and socializing outside of group exercise classes and ease the isolation often felt by seniors.
Thanks to Craigdarroch Care Home for these tips.